Incident Response Training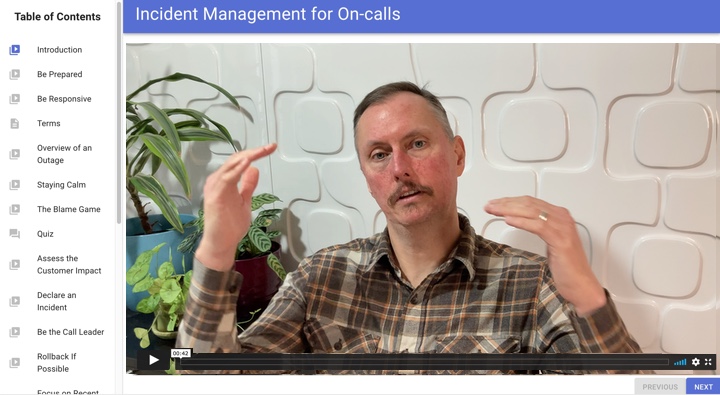 This 45 minute course covers everything you need to know about resolving high severity incidents during your on-call shift. Although outages are never any easy situation, this course includes tips and tricks to put you at ease, be more prepared, and calmly drive outages to resolution.
Early Access Price $79 $149
Incident Management Training
Lifetime access to this video course and training resources.
OpsDrill provides a no questions asked, money back guarantee. Lifetime access to the course including future enhancements. Each unit purchase is for a single student and is non-transferrable.
Course Contents
Evaluating Severity of an Incident
Declaring an Incident
Staying Calm
Incident Commander Role
Psychological Safety
Deployment Rollback
Communication
Delegation
Coordination
Resolution
Blameless Postmortums
Course Benefits
Adopting an Incident Management Framework
Without a plan, chaos is the default. A common anti-pattern is that a single heroic individual is always saving the day. But that isn't fair. There is a better way. This course is a useful tool in transforming your team, org, and company to adopting a standardize incident management process.
New Employee Onboarding
When new employees are ready to join the on-call rotation, you can assign them this video. It will help prepare them for their first on-call shift, in addition to shadowing on-calls prior to their first shift.
Annual Training Refresher
This course is designed to be 45 minutes, so that it is a good use of time. We all get rusty now and then, so re-assigning this training on an annual basis can really help. Purchasing a seat for an individual gives them access forever, including future updates to the content.
Got Questions?
Looking for parity pricing options?
Looking to import this class into your companies LMS?
Want to share ideas, feedback, etc?
Please use the chat widget, we'd love to help!